Digital Catapult – Surroundscapes
The Digital Catapult hosted their Surroundscapes workshop on the 17th of July in their London based facility with support from the BPI. The event brought together audio and immersive technology professionals and enthusiasts from across the creative industries to promote some of the audio-based projects supported by the CreativeXR program – a funding initiative developed between the Digital Catapult and multiple partners. Six audio-based CreativeXR projects were showcased at the event as well as keynotes given by members from Dolby, BBC R+D, Abbey Road RED, Inition Studio and BoseAR.
The first keynote of the day was given by Andreas Ehret, vice-president of consumer entertainment at Dolby. He provided an overview of immersive audio up to the current state-of-the-art, and Dolby's involvement up to this point. One of the interesting challenges Andreas pointed out was that high-quality immersive audio is both technically possible and available through systems such as Dolby Atmos and Ambisonic-based audio for VR applications. However, the uptake by consumers isn't quite where anyone would like it to be. This has created a 'chicken and the egg' situation. Content creators are overly cautious about spending time and resources to embrace these technologies before a real 'break-through' piece of content has been made. Andreas ended by reinforcing the idea that technology can't save poor storytelling. Storytelling should be at the forefront of any creative process.
How Dolby Atmos works
The middle of the day consisted of short talks and demos given by six of the CreativeXR projects. Part of the day was to secure new relationships between potential partners and these new creators – I'll provide links to all contact pages below if you're interested.
1.618 Digital
1.618 Digital are an award-winning creative sound design company headed by Oliver Kadel, with involvement in over 100 immersive media pieces. A particulate highlight is the VR for a Cause initiative, where the 1.618 Digital team donate their time to help charities take advantage of immersive media. Key examples from their expansive portfolio include VR Documentaries such as Common Ground and Violated Dream, as well as Rise of Animals for Magic Leap with involvement from Sir David Attenborough.
https://1618digital.com/#contact
Darkfield
Darkfield create bespoke sensory experiences in old storage containers, often in pitch black with binaural audio played back over headphones. David Rossenburg believes that complete darkness creates a blank canvas to exploit the senses, opening the door for audio-led narratives. There are currently three bookable shows: Séance, Flight and Coma which will be premiering at this years Edinburgh Fringe festival. The next stages for Darkfield include integrating speech recognition for voice activated narratives. The end goal for all of this, according to David, is to create an entire theme park of sonic experiences.
http://www.darkfield.org/contact
Inside the Darkfield Séance container
Magicbeans
Magicbeans, represented by Gareth Llewellyn, are working on recreating lifelike room acoustic experiences. The team is highly experienced and have been involved in franchises such as Harry Potter and John Wick. They were also involved in an Audiences of the Future collaborative project with Warner and the University of Huddersfield. Notable projects include Somnai, Mahler 3, Adidas Nemeziz, Soundballs and immersive recordings of the Philharmonia Orchestra. The team are also developing audio mapping tools in order to project audio holograms onto scale models in an AR space.
Playlines
Rob Morgan, head of Playlines, has used his experience working on various Playstation projects to create an audio-led, narrative-driven AR experience called Consequences. Users play by exploring the real world whilst wearing a pair of Bose Frames. Different segments of the narrative are then played back over the Frames depending on the real location of the listener. Rob likens the experience to a "silent disco meets secret cinema". The experience has already been installed in various clubs around London, and only requires a single app and a pair of headphones (or Bose Frames) to experience.
https://www.playlines.net/contact
Consequences by Playlines
Volta
Volta is a spatial audio production platform, controlled using a VR headset and controllers. The idea is to create an intuitive interface for spatial audio mixing in digital audio workstations (DAWs). Alex Kane had a demo of the system showing how simple hand gestures can be used to plan audio in a 3D space.
Zone Me Audio
Rob Oldfield and Alex Warrell gave the final presentation outlining their research into wavefield synthesis (WFS) for immersive applications. They pointed out that WFS could be used in a way to augment visual holograms. Zone Me Audio have demonstration facilities in the south of England and encouraged people to get in contact to try them out.
Four keynotes rounded off the event given by Jack Reynolds (BBC R+D), Mirek Stiles (Abbey Road RED), Amelia Kallman (Inition) and Matt Neutra (BoseAR). All provided insight into how audio is shaping immersive content and gave examples of current projects. Of interest was the demonstration of BoseAR products given by Matt Neutra, which are now available as part of the BoseAR SDK. Later in the year BoseAR will also be releasing the Creator Tool with an intentionally simplified front-end, allowing anyone to develop for their products. I also had a brief chat with Matt, and he encourages anyone who is interested in developing for BoseAR to sign up for the developer program and to contact their support team for any specific queries.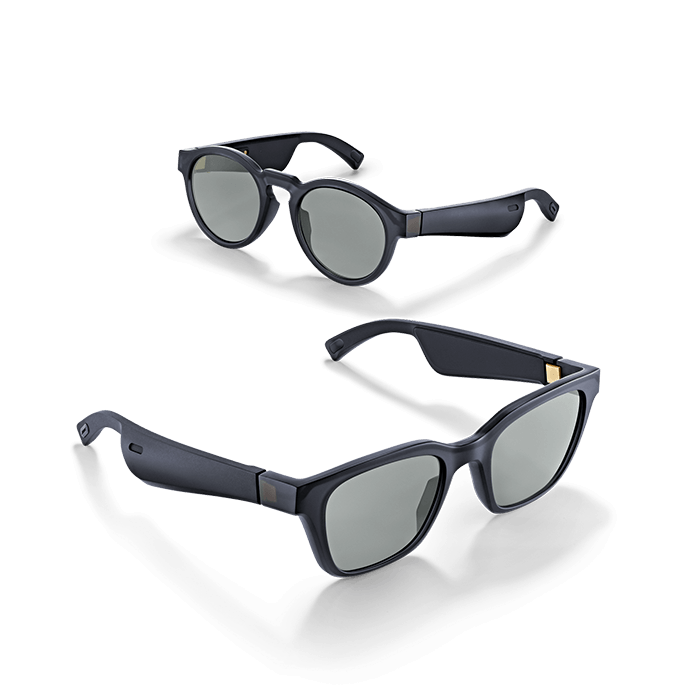 Bose Frames with built-in AR functionality

In conclusion I felt all the showcased projects had something novel and exciting to offer. There is certainly a very positive outlook in terms of how people believe audio will shape future immersive and narrative experiences. I look forward to seeing what new developments will come out in the coming months and would encourage anyone interested in immersive media to check out the Digital Catapult facilities based in London.

Published on 1 August 2019

Filed under: Digital storytelling